16 Legit Ways To Make Money Online With WordPress
If you did not know, WordPress is powering over 25 percent of the World's websites and 15 percent of the top 100 sites. So you might be asking yourself what does this have to do with making money online with WordPress.
Well, with such impressive internet stats the WordPress platform must offer some very impressive features for top businesses and internet entrepreneurs to adopt WordPress as their preferred website platform to run their online businesses.
Lets take a closer in-depth view on how WordPress is transforming peoples lives and the different ways that someone, like yourself, can make money online with WordPress.
WordPress Services
Development Services
If you are a skilled developer and have coding skills in HTML, PHP and CSS then WordPress opens up many opportunities for you to get involved in the WordPress development community.
The WordPress community has thousands of developers that make a living by developing the latest WordPress Themes and Plugins that power millions of WordPress websites around the World.
Start Offering your WordPress Development Skills on Fiverr
Graphic Design Services
Graphical elements for themes and plugins need to be created and there are photographs that need to be added to blog posts or info graphics that need to be conceptualized and created.
Use online tools like Canva and Placeit to create stunning logos and mockups for your own blog or client websites. If you become good at these online design tools then you can offer your design skills on Fiverr.
Marketing Services
If your skills lie in online marketing then there are great opportunities for you to help WordPress website owners to promote their sites through different marketing channels and social platforms like Facebook and YouTube.
Use online scheduling tools like Tailwind and Socialpilot to automate your blog post images to Pinterest and Instagram. If you become good at these online marketing tools then you can offer your digital marketing services through a service site like Fiverr.
WordPress Consulting
Trade Your Time
You can join communities where you are able to trade your time in providing some sort of WordPress service that you are good at in exchange for some sort of reward or other benefit to you.
Project Management
You may be good at website project management. You can advertise your skills to big corporate companies that may want to start a new large scale WordPress website project where they will need help with project management.
WordPress Support
Training
If you have extensive knowledge around WordPress you could either start your own website offering WordPress training tutorials or if there is a large WordPress demand in your area you could create workshops that offer WordPress courses.
WordPress Management
If you have multiple WordPress skills you can approach companies to manage their WordPress sites on a contractual basis. This would allow you to explore more freelance opportunities.
Selling WordPress Themes
One of the best ways to make money with WordPress is to develop high quality and functional WordPress themes that you can then sell online. You can achieve this in 2 ways by either submitting your themes to the biggest theme market place on the internet called ThemeForest, that showcase your themes to a large audience of potential theme buyers looking to enhance their WordPress sites.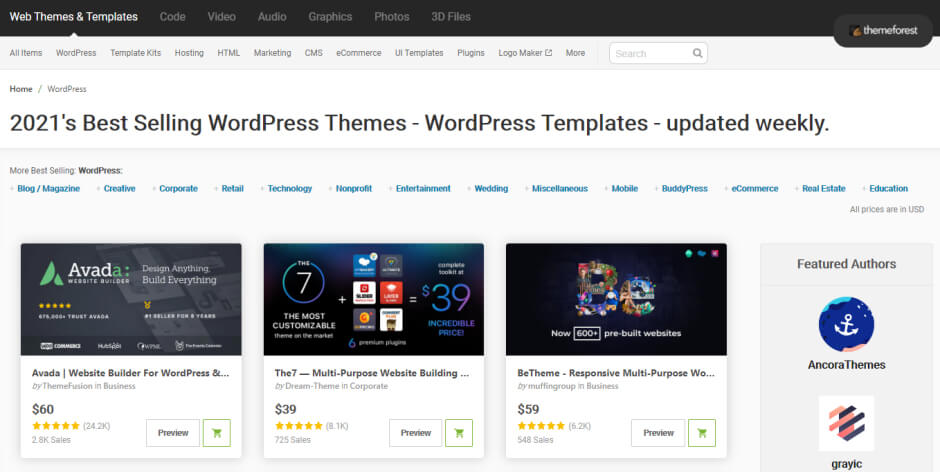 Or you can create your very own theme marketplace where you can offer digital downloads which will cut out the commissions that you would have to give to Envato for selling your themes via ThemeForest. The top selling WordPress theme on ThemeForest is Avada which is a Responsive Multi-purpose Theme which has sold over 424 000 to-date.
Check out our blog post on how to Get Premium WordPress Themes and Plugins (ThemeForest and CodeCanyon). Here you will be able to see how large this WordPress marketplace is and how well themes and plugins sell on this popular platform.
Selling WordPress Plugins
The other best way to make money with WordPress is to develop WordPress plugins that offer unique and functional applications for your WordPress website. You can then sell these plugins via CodeCanyon which is Envato's plugin equivalent to ThemeForest for Themes. Or you can create your very own digital download site to sell your own WordPress themes and plugins.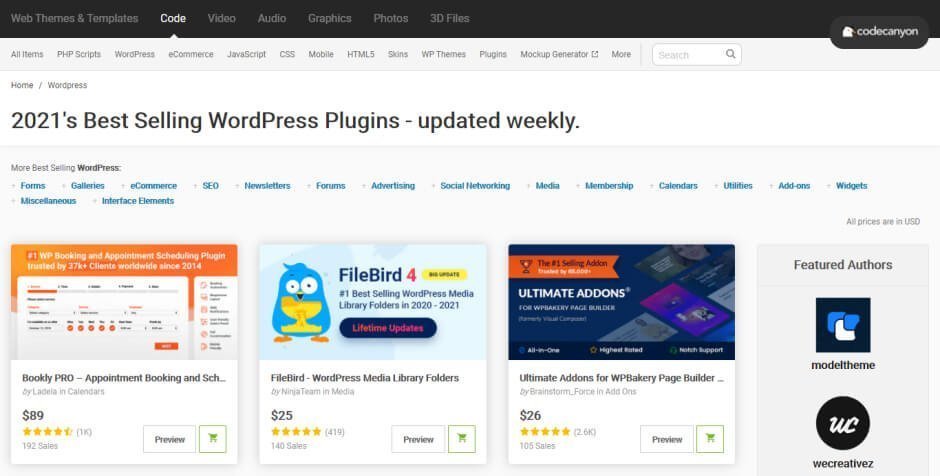 Some top grossing plugins sold on CodeCanyon include Slider Revolution which has had over 250 000 sales and WPBakery Page Builder which has sold over 360 000 copies of their plugin. Have a look at the 7 Best WordPress Marketplace Websites blog post which discusses some of the very best WordPress marketplaces that can be found online. This may inspire you to create your own WordPress plugins!
WordPress Affiliate Marketing
The WordPress money making opportunity that I'm most excited about is Affiliate Marketing using WordPress. Even though it is a hard market to break into there are great rewards if you succeed. I will be listing a few great affiliate marketing opportunities that you can have a closer look at to see if you would like to include any of these programs and plugins into your existing WordPress site.
Affiliate Marketing Programs
If you have a WordPress site where you are reviewing products or doing price comparisons and would like to monetize these products via affiliate programs then you can do this by using affiliate plugins. These plugins will help you place affiliate links into your product offerings. Some well known affiliate programs include Amazon, Ebay and ShareASale.
Amazon is probably the biggest and most profitable of all the affiliate programs out there, depending on your niche. We have a blog post where we discuss the 5 Best Amazon Affiliate Management Plugins For WordPress. These tools will help you to setup advanced Amazon Product stores and placing Amazon affiliated links in your blog posts.
Affiliate Management Plugins
Another approach to affiliate marketing is to help drive traffic to your own website. If you have a site that sells products or offers paid memberships to access content then you can install Affiliate Management Plugins that will allow you to offer a certain percentage to a person who brings a paying member to your site.
Offering an affiliate program is a great way to help generate quality traffic and targeted customers to your site and increase your revenue.
WordPress Apps
Management Apps
There are a lot more opportunities to build specialized WordPress App sites due to the vast application capability that WordPress offers startups and big business.
An examples of a WordPress Management App is if you manage a number of WordPress sites for yourself or businesses it can be time consuming to go into each site and push out regular updates for both the WordPress Core Platform and the themes and plugins for these sites.
Some developers have developed sites and tools that allow you to manage all the WordPress sites that you are responsible for from one central location.
Mobile App Builder
You may have a WordPress site that has a lot of great content that you would like to get published via big mobile market places like the Apple App Store or Google Play but because of the great expense that would be needed to hire native developers to develop an IOS or Android App version this may be way out of your reach.
But wait, AppPresser to the rescue! This tool is an affordable solution to create iOS and Android mobile apps that integrate with your WordPress site.
Another very power WordPress Mobile App builder is called AppMySite which is just as good as AppPresser maybe even better and offer more affordable pricing plans.
WordPress Membership Websites
There are many powerful membership plugins that have been created to help WordPress users to build and offer their unique products or service offerings online.
These membership plugins range from offering tutorials or online courses via an education Learning Management System (LMS) or if you have a photographic site you can setup and configure a Digital Downloads plugin that will help with managing your community of photographers.
Have a look at these Top 5 Premium WordPress Membership Management Plugins to help you build the ultimate WordPress membership site.
WordPress e-Commerce Websites
If you have either digital or physical products to sell online then WordPress is a great content management system to use for building an e-Commerce business. There are a hand full of very good WordPress e-commerce plugins that will allow you to build powerful online stores.
Checkout our blog post on the top 5 Premium eCommerce Store Plugins For WordPress. In this post, we have identified the 5 best eCommerce plugins that will allow you to create a very powerful online store for your online business.
WordPress Sponsoring Opportunities
If you have been blogging for sometime and are generating a lot of traffic to your site then one of the ways to make money online from WordPress is to look at sponsoring opportunities.
You could offer guest blogging on your site and charge a certain amount for each guest post from other recognized bloggers within your niche. Sponsoring opportunities could extended to other social channels like to your YouTube videos, pod casts, tweets and even your Instagram, if you have a large following on these platforms.
Writing Services
Unique Content – There is great demand for unique content to be written for blogs and websites as not all blog and website owners are born writers.
So if you are looking for more writing opportunities or are fresh out of college, then you will not have a problem finding online freelancing writing opportunities. Some writers even make it their full time job!
Blog & Product Reviews
There are a lot more sites out there that are doing reviews or comparisons on products which creates a need for writers that have a knack for writing good product reviews.
Take a look at our blog post on the 5 Premium Freelancing Writing Services for Content Creation. These writing service marketplaces offer a platform for freelance writers to offer their writing skills to a large audience of professional bloggers and business owners.
WordPress Training
You might have extensive experience with some aspect of the WordPress Eco system. For example you might have been setting up the WordPress environment for your clients for many years and have valuable experience and knowledge on how to configure themes and the necessary plugins needed to get an optimal WordPress site up and running in a matter of days.
This allows you an opportunity to make a business out of providing training services for new WordPress developers and website owners who want to setup their own sites. You could offer online digital courses for potential clients.
Offering WordPress Workshops
Expanding on WordPress training you could offer WordPress workshops if you are well respected in your local or online community.
WordPress Hosting
Own Hosting Provider
You can become your very own hosting provider if you have a lot of WordPress and hosting technical knowledge. Have a look at these 5 Top Hosting Providers That Specialize In WordPress Hosting. Perhaps you could implement a better WordPress Hosting solution with unique web hosting services for WordPress website owners.
Reseller and affiliate marketing
If you don't want to go the whole way with building your very own WordPress hosting solution then you can partner with a very good hosting provider or join their affiliate program which have some of the biggest affiliate commission payouts in the online affiliate marketing space.
WordPress SEO Tools
If you have a strong Search Engine Optimization background and understand how search engines rank websites, then you have an opportunity to building your very own SEO tools to help people rank better in search engines with their WordPress websites.
Take a look at these 6 Best SEO Keyword Research Tools for Website Owners you may get inspired to create your very own SEO Keyword Research Tool!
Sell WordPress Websites
If you are like myself, you may have found yourself having a unique collection of WordPress sites that you have built-up over the years trying to implement all your different ideas that you envisioned.
There is a great opportunity for you to sell these websites as you may find that you do not have enough time to keep these sites fresh with new content and it may also free up your time to focus on your main project.
Welcome to Flippa.com which is a very popular website marketplace for people to buy and sell websites online. There are other website marketplaces like Flippa but not as big or secure.
With personal experience selling my websites and mobile applications via Flippa I can truly say that there is no other marketplace that can compete when it comes to buying and selling websites online.
That's it guys and gals 16 Legit Ways To Make Money Online With WordPress hope you enjoyed the post? if you did, could you please share it with others.