Get Premium WordPress Themes and Plugins (ThemeForest and CodeCanyon)
This post may contain affiliate links, meaning I get a commission if you decide to make a purchase through my links, at no cost to you. Please read my disclosure for more info.
Get Premium WordPress Themes and Plugins via the Envato Marketplace which is a helpful online resource that should be on the top of every WordPress users bookmark list!
This WordPress resource is more of a network of website resources and it covers everything from WordPress themes, to plugins, to sound bites and graphics and everything else a web developer could need.
The two popular sections from Envato Marketplace that we are going to give you a summary of are ThemeForest – their Premium WordPress theme section and CodeCanyon – the Premium WordPress plugin section.
ThemeForest Premium WordPress Themes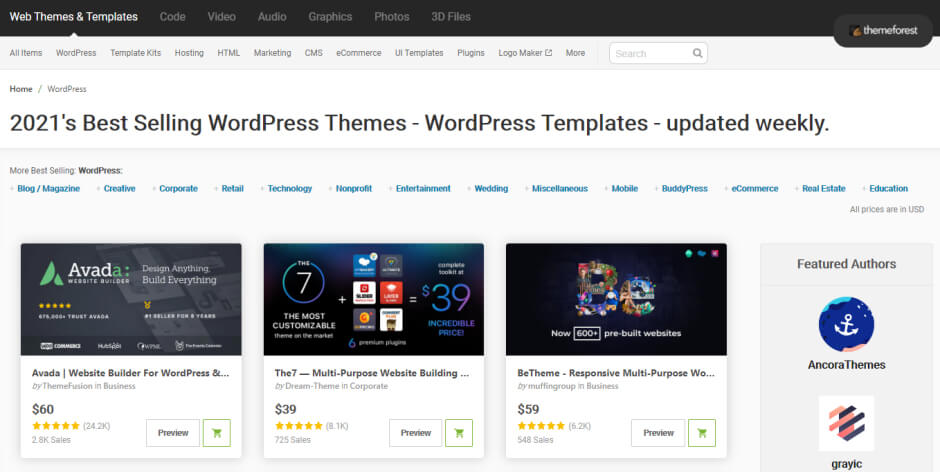 ThemeForest is not only a website resource for WordPress themes, but offers over 36 000 site templates and themes for WordPress, Joomla, Magnet, PSD and more.
So even if WordPress is not your cup of tea, this site has resources you can make use of beyond WordPress. We like WordPress, so we will be focusing on the offerings that ThemeForest has in this sector.
The amount of Premium WordPress Themes on offer on this site can be a bit daunting at times, but on the other hand, you are sure to find a theme to suits your requirements from the vast selection!
There are new themes being added all the time, so visiting the site regularly is a good idea. The majority of the themes available are mobile responsive and have great graphic components and layouts. The variety of themes and the ability to customize the theme ensures that your site can have a unique look and feel to it and you can avoid that "canned" website appearance.
The price range of themes vary from around $30 to $60 or more, so not only can you find a Premium WordPress Theme to match your layout, but also one to match your budget! The themes are also star rated so you can get an idea of their popularity.
From a support perspective, there is an active forum community which is an excellent place to start your search for information regarding products on the site.
Because the Envato marketplace provides a platform for developers to market their products, Envato does not provide a support facility. You can, however, contact the author of the theme directly for support. It is in the author's interest to provide prompt support for their product, as this will also affect their product rating on ThemeForest.
Great Theme features on offer include:
Categories easily searchable
Responsive design
Great graphics
Well documented
Easily customisable either via options or page builder tools
Short-code integration
SEO optimization
In short, ThemeForest is an invaluable resource that should be your first point of call when looking for a new WordPress theme.
CodeCanyon Premium WordPress Plugins
The plugins on CodeCanyon are just great! With anything from shopping cart plugins to streaming radio! One particular plugin I like is one which gives you access to over 10 000 vector icons which you can use to spice up your site. There are even some plugins offered for free!
The great thing about the Premium WordPress Plugins on CodeCanyon is that most of them have an online demo feature where you can see the plugin in action, so you don't have to download it and try it out on your own site to test it's functionality!
Screenshots are also shown for your to get a quick overview of the Premium WordPress Plugin, and comprehensive documentation is supplied as to installation, settings and features of the plugin.
If you like a particular the author's work, you have the ability to "follow" the authors on the CodeCanyon or on Facebook to see when they bring out new products or updates to their existing products, or give your suggestions on how to enhance the product.