6 Best SEO Keyword Research Tools for Website Owners
This post may contain affiliate links, meaning I get a commission if you decide to make a purchase through my links, at no cost to you. Please read my disclosure for more info.
Everyone understands the importance of SEO. The most important aspect of SEO is keywords. It's fair to say that the basic foundation of SEO is keyword research. Lots of companies will invest thousands of dollars in keyword research, but there's no need for that. Just read through our list of the 6 Best SEO keyword research tools for Website Owners.
SEMrush
If you want a solid keyword research tool then it doesn't get much bigger or better than SEMrush. This tool is packed with features, including SEO and PPC research, researching long tail keywords, finding related keywords and phrase matches, using regional databases for international SEO, competitive analysis, and more.
Make use of the organic competitors report and competitive research toolkit to learn more about the strengths and weakness of your competition.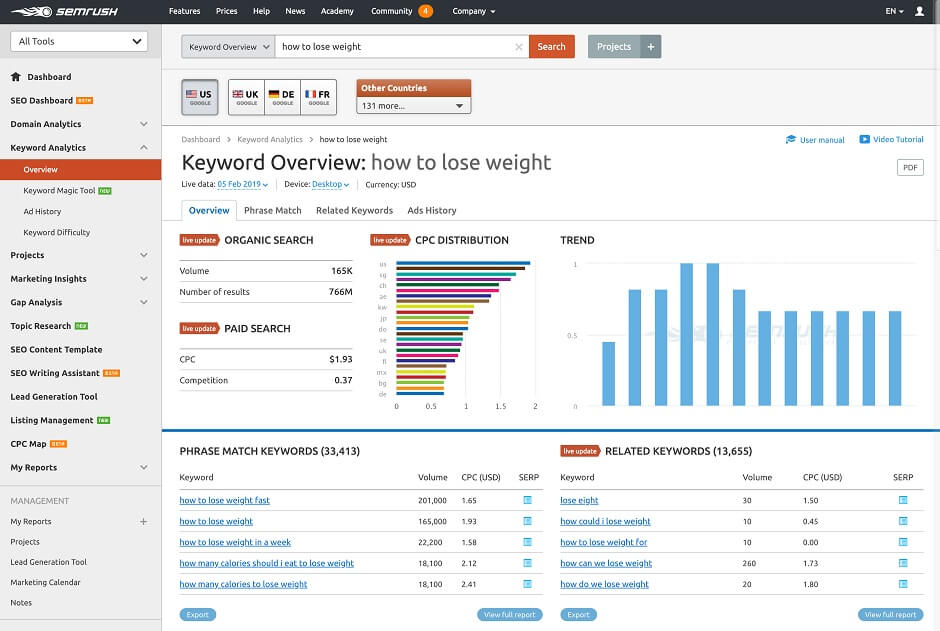 KWFinder
KWFinder is a long tail keyword research tool that shows trends, search volume, level of difficulty, and CPC in results. If you were to choose an individual keyword though then the interface opens up a second pane displaying the difficulty level of the keyword up to 100 and where it ranks in Google.
This gives you a look at the domains targeting the keyword, social shares, backlinks, and traffic. This makes for yet another useful SEO Keyword Research Tool.
LongTailPro
LongTailPro is a piece of cloud-based software used for keyword research. It's an incredibly popular paid research tool that helps users to find the best keywords for niche/micro-niche sites.
The service has a platinum version that provides an incredible in-depth keyword analysis feature. Another good feature is the competition checker. This makes it super simple to choose the best keyword for you.
Ubersuggest
Ubersuggest allows you to get insight into the strategies that are working for others in your market so you can adopt them, improve them, and gain an edge.
Want more traffic to your website? Then Ubersuggest will shows you how to win the game of SEO. Just by typing in a domain or a keyword into their search bar and selecting which country you would like to analyze.
Once you signup to Ubersuggest, you will be able to create a project which will allow you to do the following; track and improve your website rankings, get daily status updates on how you are doing, critical alerts about issues on your website and monitor your sites SEO health.
Ubersuggest is a product by Neil Patel whom is a very influential digital marketing guru and Ubersuggest is currently one of the best priced SEO keyword research tools on the market.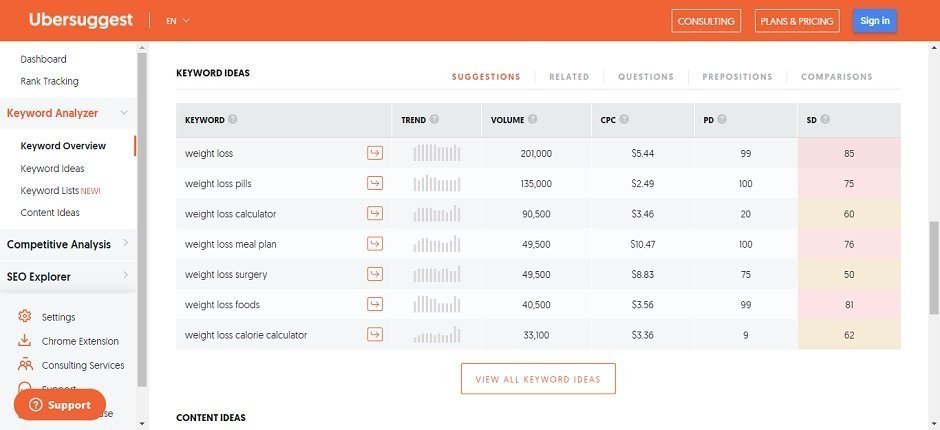 Moz's Keyword Explorer
The Moz Keyword Explorer is the latest tool from Moz designed to add new dimensions to the world of keyword research.
As well as providing volume and difficulty, the tool also tells you how critical a keyword is to your overall campaign, offers a relative CTR of organic results on a search engine, and plenty of metrics about keywords to help you choose the right one.
It also integrates nicely with other online business tools, allowing you to upload a list of keywords from another tool to get the extra insight Moz's Keyword Explorer offers.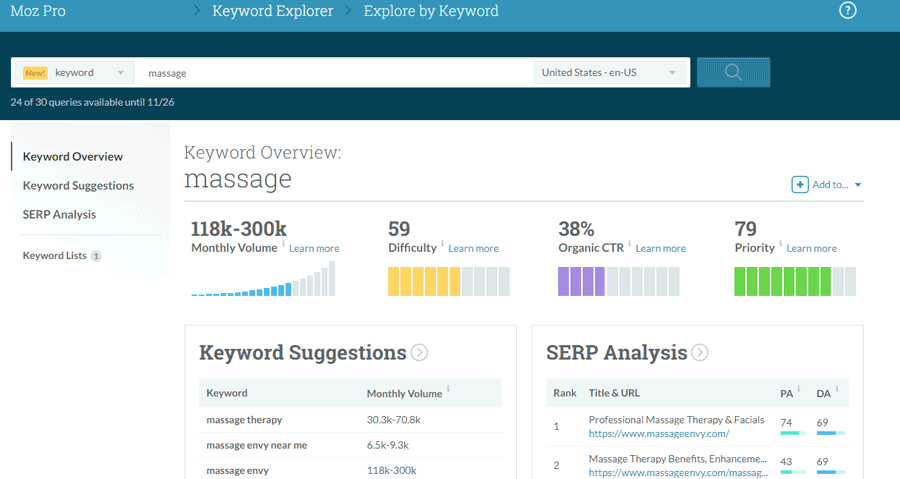 Ahrefs Keyword Explorer
Ahrefs is among the most popular keyword research tools on the market. One of the best things about it is that it is so detailed. It makes use of clickstream data to show the number of clicks you get from search engines. This information is vital because some keywords will get a lot of traffic but they generate barely any clicks at all from a search engine.
This is because users get the answer directly from the search engine, such as if someone was to use Google to search for the birthdate of a celebrity. Ahrefs Keyword Explorer is also known for its amazing UI and the wealth of data it provides users. The tool allows you to create a list of keywords through the dashboard itself, which saves plenty of time and makes this an important SEO Keyword Research Tool.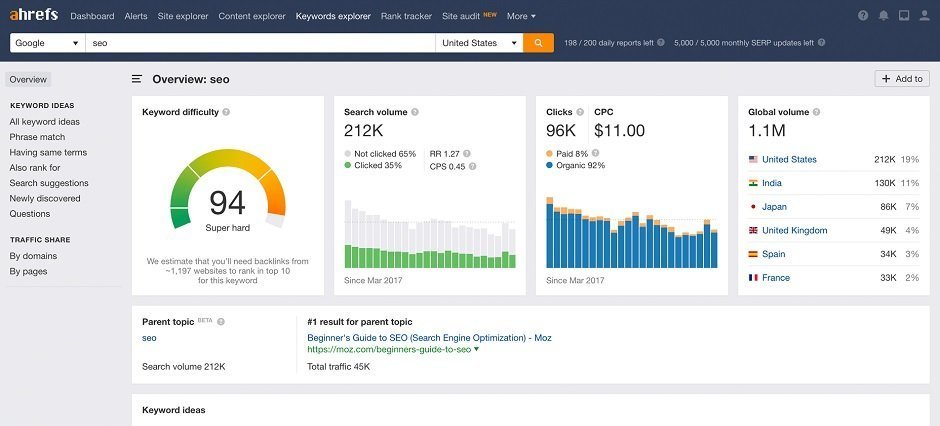 All of the keyword research tools on our list go a long way towards gaining new insights into keywords and putting together a solid SEO strategy. Which one is right for you depends on your needs and budget. Check out which SEO tool is the right one for you.