10 Best Email Marketing Services for Small Business
Email marketing is an important part of doing business. If you're running your own email marketing from your website, then you should consider a good email marketing software to help you run your email marketing campaigns. The right piece of email marketing software has a major impact on how successful your campaign is.
We take a look at the 10 best email marketing services for small business, 2 lists divided into self-hosted and off-site email marketing service providers.
Self-Hosted Email Marketing Services For WordPress
Have you ever thought about self-hosting your email marketing campaigns? It's still a relatively new strategy, but it has a lot of benefits over the more traditional off-site hosted email marketing services.
One huge benefit of going with a self-hosted email marketing services solution is that you could possible save hundreds or even thousands of dollars as you might only pay for a yearly subscription versus a monthly subscription when going with a off-site email marketing solution.
If you're thinking about setting up your own email mailing list or subscription service, here are some really good and reliable self-hosted email marketing services for bloggers and small businesses.
FluentCRM
FluentCRM is the ultimate email marketing services plugin for WordPress. With features that go far beyond what competing plugins have to offer, it will help you manage all of your leads and customers, email campaigns, automated email sequencing, learner and affiliate management, and much more in one place; without having to leave your WordPress dashboard.
Dozens of built-in integrations with WordPress major plugins give you the power to create a fully automated marketing campaign and build a thriving online business that doesn't need expensive third-party solutions.
The FluentCRM plugin offers a host of powerful features for creating and managing email marketing campaigns. From planning your campaign to tracking the performance of your email marketing deliverability, the FluentCRM gives you the tools to engage with your prospects and make more informed business decisions.
Click here to find out more about FluentCRM
MailPoet
MailPoet is a professional newsletter management and email marketing service plugin for WordPress, which allows you to send beautiful emails to your subscribers. It seamlessly integrates with WordPress, so you can send emails right from your dashboard.
MailPoet lets you collect data points such as open-rates, click-throughs, time spent on your newsletters and much more. Improve your email marketing with MailPoet.
Whether you're a blogger or an online store owner, MailPoet can send newsletters to all your subscribers. Email marketing made easy.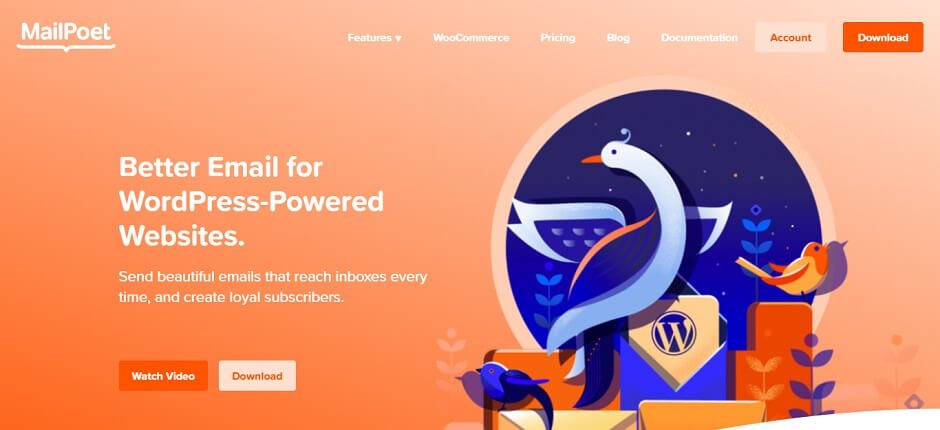 Click here to find out more about MailPoet
Mailster
Mailster is the simple to use email marketing plugin for WordPress. Mailster lets you create, send and track email newsletters all within your WordPress site. Whether you're managing a business or simply creating a blog, Mailster will make the process of collecting emails and sending out newsletters simple for you.
With over 20,000 users Mailster is perfect for creating a recurring newsletter program for your business.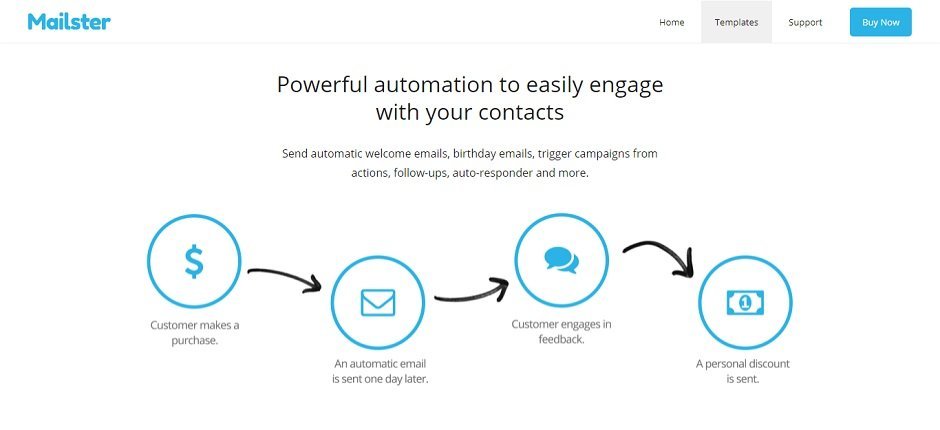 Click Here to find out more about Mailster
Off-Site Hosted Email Marketing Services
Email marketing is a powerful way to communicate with your readers. One of the easiest ways to do this is by using hosted email marketing services. These services host your emails on their servers so all you have to do is write and send them to your clients, you do not have to worry about maintaining the infrastructure yourself.
The disadvantages of using off-site hosted email marketing services is that once you have reach the free subscriber quote you have to start paying monthly fees and those fees can increase quite substantially as you subscriber base grows.
We have listed some of the more reliable and popular off-site email marketing services solutions for you below.
MailerLite
Email marketing made easy. MailerLite is perfect for bloggers and businesses looking to grow. Find the right tools to send high quality content directly to leads, followers, and customers.
It's simple to use and includes all of the features you could ever imagined! MailerLite strikes a balance between ease of use and cutting-edge features, including landing pages, automation, A/B testing, and drip campaigns.
Click here to find out more about MailerLite
GetResponse
GetResponse is one of the most popular email marketing solutions. It's super easy to use and makes the whole process simple for beginners and small businesses. GetResponse is packed with automation tools you can use to establish smart automated email campaigns.
Create campaigns, segment contacts, and send content using the easy-to-use drag and drop builder. GetResponse offers landing pages, responsive forms, tracking, autoresponders, and more.
Click here to find out more about GetResponse
Aweber
Aweber provides a range of different tools to allow small-and-medium sized businesses to start and manage email marketing campaigns. It's easy to get started with Aweber.
The software connects to a range of platforms including WordPress. You'll have instant access to lots of templates, email tracking insights, list management tools, and autoresponders.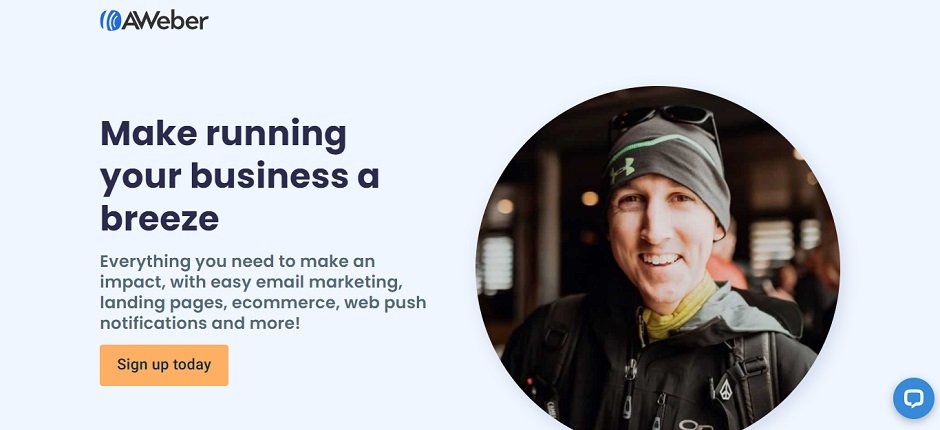 Click here to find out more about Aweber
Constant Contact
Constant Contact is quickly becoming one of the fastest growing email marketing services on the market. It's also one of the simplest to use. Effortlessly manage contacts, email lists, templates, and more.
There are tracking and reporting tools, social media sharing tools, an image library, and even up to 1GB of storage to enjoy. Constant Contact also comes with unparalleled support options including online training and seminars. It's truly one of the best tools for beginners.
Click here to find out more about Constant Contact
ConvertKit
ConvertKit is a potent email marketing solution designed for authors, professional bloggers, and marketers. It's a powerful but simple-to-use tool. This email marketing solution allows you to offer incentives and content upgrades with your email signup forms.
It also has auto-responder features for sending drip emails and maintaining relationships with consumers. ConvertKit makes it easy to segment contacts and separate people who are interested from people that have already made a purchase, which is great for automating marketing.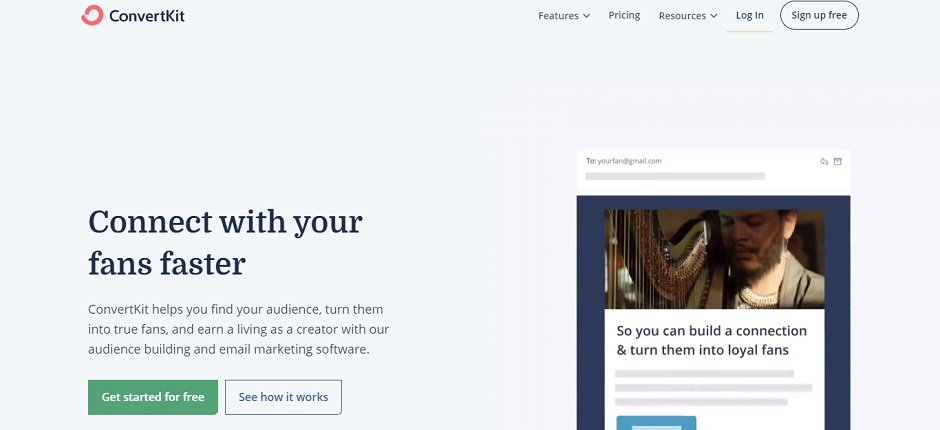 ActiveCampaign
ActiveCampaign is much more than a simple email marketing service. It combines email marketing and automation with CRM and sales. It has every tool you might need to create a smart email marketing campaign. It comes packed with a powerful email template editor and mobile-friendly email signup forms.
Like ConvertKit, it allows you to segment contacts. You can segment contacts based on what they do, where they live, their social information, and more.
It also uses their email address to pull up more information about a contact and integrates perfectly with third-party programs like WordPress. It even allows you to send SMS messages to contacts to follow up with them.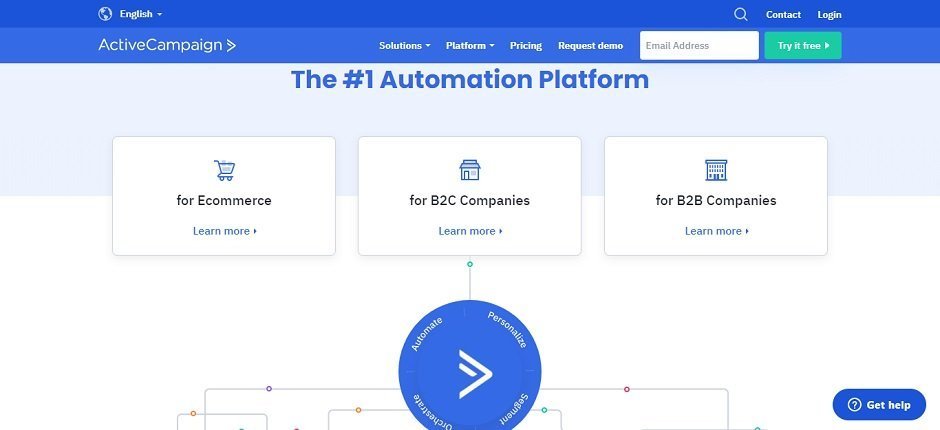 Click here to find out more about ActiveCampaign
MailChimp
Take control of your email marketing with Mailchimp. Their easy-to-use tools help you create smart designs, personalize your messages, and track the success of your campaigns – so you can understand what works and what doesn't.
Have you ever tried to design an email without using templates? It's really frustrating, because you can't really see how your emails will look until they're finally built. Mailchimp is an all-in-one email marketing tool that can help you deliver better emails.
Not only can it help you write better emails, but it also includes powerful templates that allow you to add topics, customize buttons, and more. Bloggers and small business owners use Mailchimp for building forms, making newsletter templates, marketing email lists and more.
That's why more than 600,000 businesses around the world like Vineyard Vines, Birchbox, and Bonobos trust Mailchimp to grow their businesses.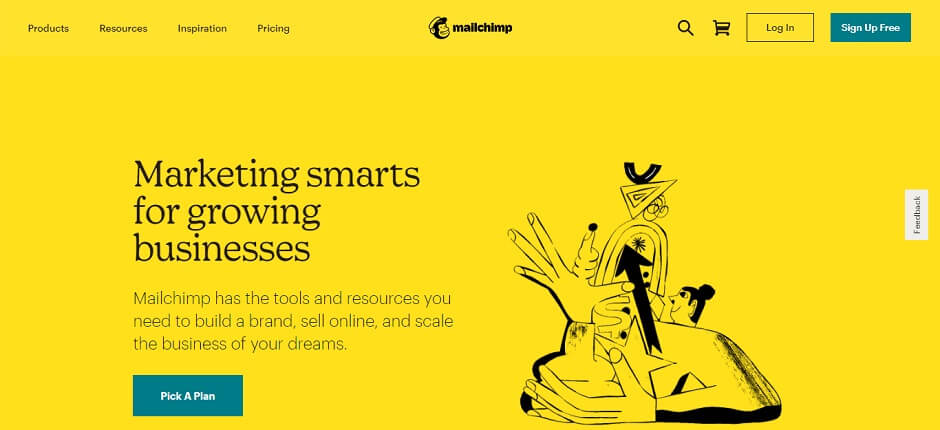 Final Thoughts on the Best Email Marketing Services for Small Business
Email Marketing allows you to build customer relationships and increase your customer base. If you are looking for a good email marketing service, then you could use some help to make an informed decision on what to buy.
This best email marketing services for small business article provides some of the best email marketing service providers available. The email marketing services mentioned above, will help you get your business online and reaching out to your exciting customers and potentially onboarding a lot more new clients.
Our choice for the best self-hosted email marketing services for WordPress would be FluentCRM and for the best off-site email marketing services solution we would use MailerLite as they have probable the cheapest monthly subscription plans compared to the other solutions we have listed above but theirs service offering are also world class.