5 Best Amazon Affiliate Plugins for WordPress
This post may contain affiliate links, meaning I get a commission if you decide to make a purchase through my links, at no cost to you. Please read my disclosure for more info.
This article will look at some of the very best Amazon Affiliate plugins for WordPress that are currently on the internet. Each of these WordPress plugins offer great functions and support options. Let's get started with our list of the 5 best Amazon Affiliate plugins for WordPress.
AAWP – Amazon Affiliates WordPress Plugin
AAWP – or Amazon Affiliates WordPress Plugin – is among the most popular premium plugins for Amazon affiliates on WordPress. It's great at helping you to boost your affiliate earnings and conversions on Amazon.
Whether you post product reviews or advertisements, or just link to products in posts, AAWP makes it easy to customize how you present Amazon products on your website.
It is incredible flexible and offers a range of features including automatically generating affiliate links, automatically update product prices, and customize the functionality of affiliate listings.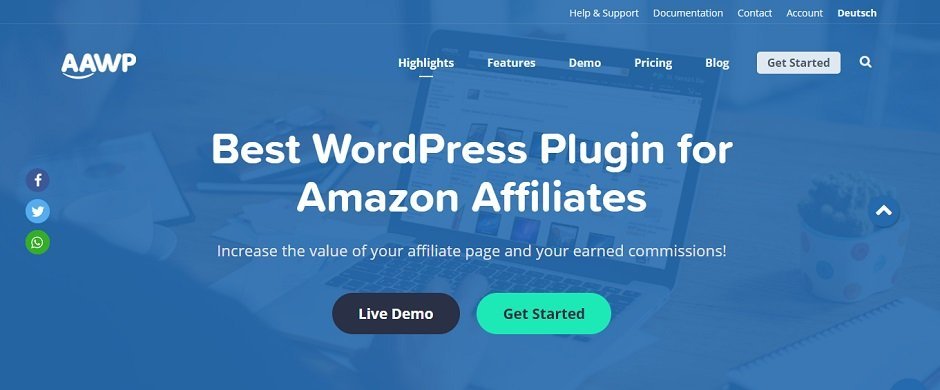 Click here to find out more about AAWP
WZone – WooCommerce Amazon Affiliates Plugin
WZone – which is also known as the WooCommerce Amazon Affiliates plugin – is packed full of features. It comes with a 90-day cookie feature that provides you with Amazon advertising fees from the products your visitors purchase and not simply the products that you advertise.
The WZone plugin allows you to bulk import products into your WooCommerce Store and it tracks all data on Amazon products including their title, price, description, reviews, and more.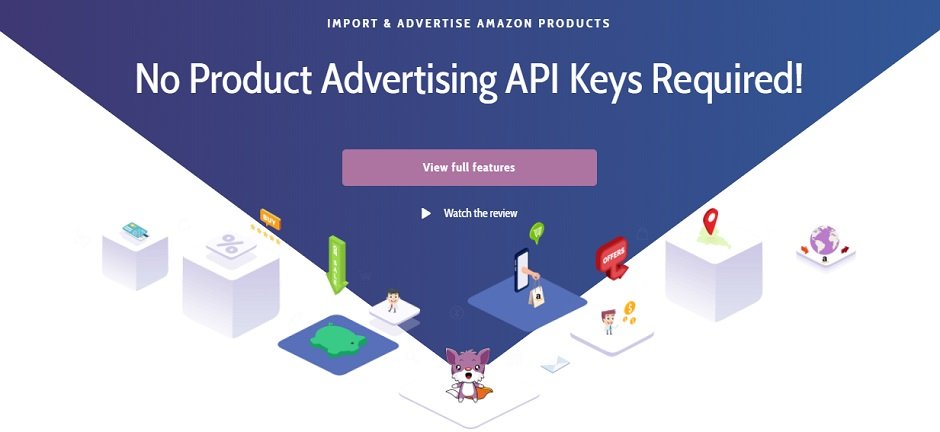 Click here to find out more about WZone
AzonPress – Amazon Affiliate WordPress Plugin
The AzonPress WordPress plugin that will allow you to increase your Amazon Affiliate revenue by up to 250%. This WordPress plugin will take less than 2 minutes to install and setup on your site.
You can choose how you want to present your products so you audience will be more likely to click on the Buy Now button. In turn this will increase the conversions on your site due to the products been presented in a more user friendly manner.
Some of the AzonPress features include: intuitive product showcase tables, through many category options you will be able to promote as many products as possible, your audience can make informed decisions through comparison tables.
There is also the ability to add best sellers lists and you will be able to make your links geo-targeting. Through customizable layouts you will be able to build grids, Box, lists, tables and widget- exhibit in the way you would like to display your Affiliate links.
AzonPress is another great option for an Amazon affiliate plugin for WordPress as it is developed by WP Managed Ninja that have a few premium WordPress Plugins under their banner.
Click here to find out more about AzonPress
Content Egg – Amazon Affiliate WordPress Plugin
Content Egg is powered by modules. It adds extra sections to posts from which you can search for keywords. Depending on the modules that have been enabled, the plugin will then search and display results for you. Then you can add them to the post and edit results.
Most of the modules get their data from the official API. This means that you may have to register with some services and set access keys to the API to get it working properly.
The data of the Content Egg modules are stored in the standard custom WordPress fields when you save the post. Content Egg works with any WordPress theme seamlessly, so don't worry about what theme your site is running.
Click here to find out more about Content Egg
EasyAzon – Amazon Affiliate WordPress Plugin
If you're a regular Amazon Affiliate then the EasyAzon plugin can help you out alot. This great plugin makes it easy to create text links to Amazon affiliate products without having to go through the process of actually creating links.
The plugin supports every location where the Amazon associate network is to make it easy for users. It's also handy for SEO because it offers no follow tag to links and an option to open them in new windows.
Conclusion About the Best Amazon Affiliate Plugins For WordPress
The Amazon Tools listed above are great for anyone running their own e-commerce site who needs a great way to add Amazon affiliate links to their site.
It's difficult to find the right Amazon Affiliate plugins to help you manage you affiliate links and the affiliate plugins we have mentioned above are some of the very best Amazon affiliate plugins for WordPress currently on the market. Some of them are free, some of them are paid, and some of them are freemium. Choose the right one for you.