Starryai App Art Generator
Starryai is a cutting-edge AI art generator app designed for artists and creatives who want to bring their imaginations to life. With Starryai, you can easily create stunning artwork simply by describing what you want to see. The app uses state-of-the-art AI methods to transform your words into beautiful art.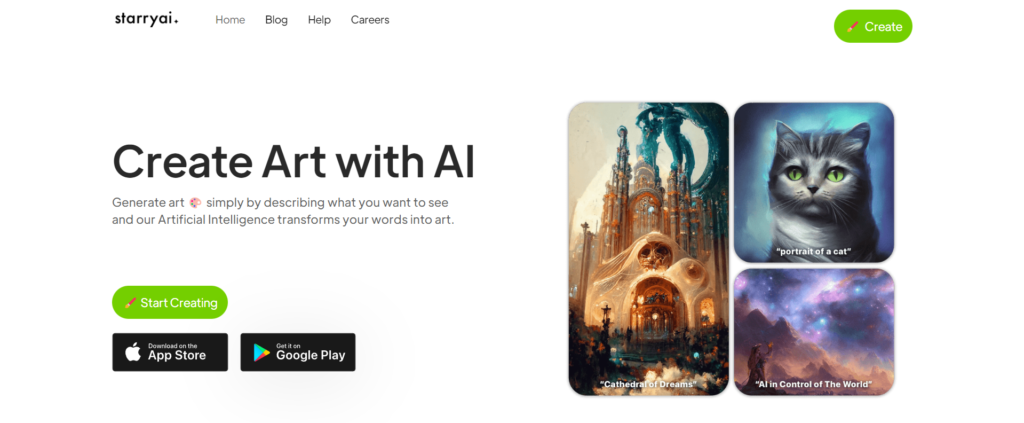 Starryai is free to use and offers you the ability to generate up to 5 artworks per day without watermarks. This means you can start creating right away, without having to worry about hidden fees or limitations. You'll also have full ownership of your creations, so you can use them for your next art project, print them out, or share them on social media.
Starryai offers a high degree of customizability, allowing you to choose from a variety of different models, styles, aspect ratios, and initial images. You can also choose the size of your creations, with options for custom sizes and the ability to upscale your art. With 1000+ styles to choose from, you're sure to find something that fits your artistic vision.
If you're looking for a bulk creation option, Starryai has you covered with its "Bulk Create" feature. This allows you to generate multiple artworks at once, giving you the power to create an entire collection with ease. Additionally, the app's "Evolve" feature allows you to continue refining your artwork, giving you the ability to create something truly unique.
With 4.7 stars on the iOS app store, Starryai is a popular choice for AI artists. Whether you're an experienced artist or just looking to try something new, Starryai is an excellent tool to help you bring your creativity to life. And with its intuitive design, you can get started in less than a minute! So why wait? Download the Starryai App today and start creating AI-generated art!