Introducing Leonardo AI, the revolutionary platform that enables game developers and artists to create stunning game assets with ease and efficiency. Leonardo AI is designed to save developers and artists time by providing them with market-leading features that allow them to generate high-quality visual content in a matter of minutes, rather than months.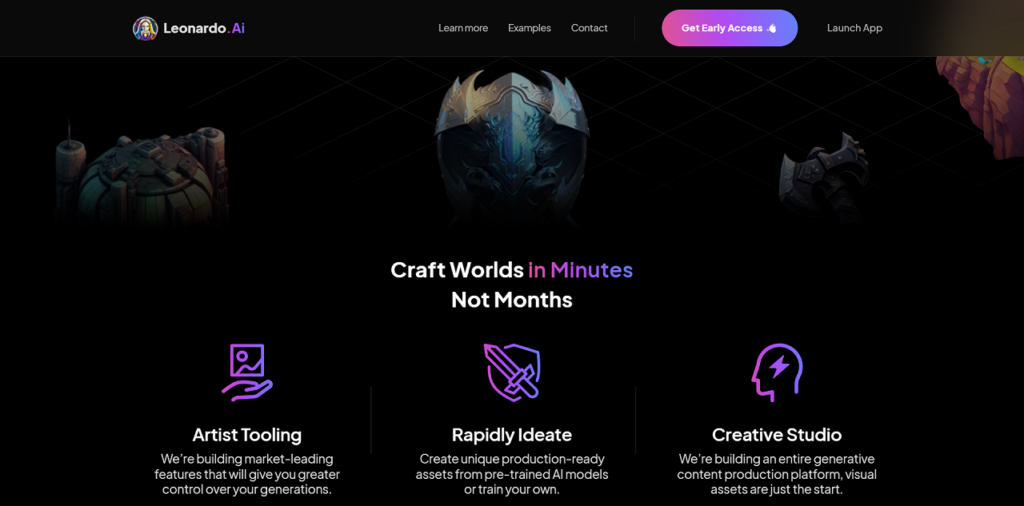 One of the key features of Leonardo AI is its artist tooling. With this tool, developers and artists have greater control over their asset generations. Whether creating unique production-ready assets from pre-trained AI models or training their AI, they can execute their ideas with unparalleled ease and speed. Additionally, the Leonardo AI team is building an entire generative content production platform that extends beyond creating visual assets.
Leonardo AI is fast, easy, and artist-friendly, with several options that allow users to generate their assets with just a few clicks. When using the platform, artists can select an existing model or use their AI Tool to create artworks. The process is fast, and the iterations are virtually limitless, allowing developers to upscale and refine the assets created even further.
Artists can create models of various items, including environments, helmets, buildings, and concept art. They can use existing work or reference art from mood boards and create multiple variations based on user prompts (e.g. futuristic, medieval, fantasy, etc.) All assets created by the platform retain a consistent finish, enhancing their composition and visual appeal.
At its core, Leonardo AI is designed to help developers and artists craft worlds in just minutes. With the platform's powerful capabilities, artists and developers can unlock their creativity, explore unlimited potential, and create game-changing visuals.
Leonardo AI's pricing is competitive and user-friendly, with integrations available to make the process even more streamlined. The platform has already garnered rave reviews from satisfied customers seeking to optimize their workflows and create assets that set them apart in the gaming world.
Overall, Leonardo AI is a game-changer in the industry, providing a solution that enables game developers and artists to create professional-grade game assets in minutes, not months. Its unique combination of speed, user-friendliness, and artistic flexibility makes it an excellent choice for anyone who needs to create high-quality assets with ease. By using Leonardo AI, developers and artists can take their creativity to the next level, generate assets faster than ever before, and ultimately bring their ideas to life in ways they never thought possible.
Don't wait, sign up today and take advantage of exclusive early-bird access to Leonardo AI – the way of the future for game asset creation. Experience the power of the platform for yourself and discover the limitless potential of your creativity.