Wealthy Affiliate Review: Affiliate Marketing For Beginners
This post may contain affiliate links, meaning I get a commission if you decide to make a purchase through my links, at no cost to you. Please read my disclosure for more info.
In this Wealthy Affiliate review, I will share with you the pros and cons of the Wealthy Affiliate program so that you can make up your mind on whether you should join or not!
Affiliate marketing can be a daunting undertaking, particularly for beginners! If you are just starting to explore this aspect of online entrepreneurship, then you will know what I am talking about! There is almost too much information out there to make head or tail of it all. Where do you start? Where can you find assistance and guidance?
About the Wealthy Affiliate program
Wealthy Affiliate is a platform designed for affiliate marketers of all levels. The platform is not only a great place to get educated on affiliate marketing, but offers so much more! Support in the form of networking with other marketers, or even mentorship from an expert is a key feature of this program.
Tools to find niches, keywords and to see what your competition is up to are all available as part of the service. You can even build your website on the platform with over 3000 themes available, and host your website, all in the same place.
Click here to try Wealthy Affiliate for free!
The Benefits of Using the Wealthy Affiliate Program
At the time of writing this Wealthy Affiliate review, the company has been in business for 14 years. This is quite an achievement in the online business space. This fact can inspire confidence in you that these guys know what they are talking about! They have been around the block a few times!
What I like about the platform is that it caters for affiliate marketers at all levels. From entry level training to intermediate and advanced level marketers. There is something here for you, no matter your affiliate marketing level!
Are you New to Affiliate Marketing?
The Wealthy Affiliate community
A difficult aspect of building and online business is finding the right help, at the right time when you need it! This help comes in the form of a large community of members with all levels of expertise and available to you 24/7. So getting help on your schedule is no longer an issue.
You will not have to wait days on a forum to get an answer to your question! The average time to get and answer on Wealthy Affiliate is 1.8 minutes! That is pretty spectacular response time if you ask me!
The platform as over 1.4 million members, spanning 193 countries around the world! All willing to help you and journey with you in your quest for a successful online business!
The WA community are responsive and courteous, so you don't have to feel embarrassed about asking those "dumb" questions! We were all newbies at some point in our journey!
By joining the WA community and participating, you can expect to gain a true education in building and running an online business. It is a platform with an abundance of teachers that can assist with questions related to niches, keywords, hosting platforms, themes and marketing strategies.
Being part of the WA community makes learning can be fun, and more importantly, there when you need it!
Building your online business
Building an online business is much like building a standard business. There are dangers and pitfalls, do's and don'ts, right ways and wrong ways, and tricks, tips and short cuts! In the normal business world, people starting out building a new business look for a mentor.
Someone with experience, who has traveled the road before, learned the lessons and overcome the challenges! Someone to guide you on your way, so that you don't have to make the same, and sometimes painful mistakes.
Wealthy Affiliate will fill this role for you as you embark on your journey to building an online business! They help over 10 000 people a month start their online business! And you don't just get one mentor! You get the benefit of the experience of the entire community across the world!

Click here to try Wealthy Affiliate for free!
Things I like about Wealthy Affiliate
As you can probably tell by now in this review of Wealthy Affiliate, I am a fan of their platform! There are many things that I like about the platform, but I guess my top three aspects of the platform, especially for new members would be as follows.
Free starter membership – the free to try starter member ship gives you enough insight into the platform to determine if it is worthwhile for you or not, before you commit to a paid subscription. As part of the free membership, you still get great value and content that is use-able, unlike many other similar platforms.
Value for money – This is a big one for me. As part of the paid subscription, you not only get access to the community, but also to SEO keyword research tools to help you track and analyse your site, and find keywords, and do niche investigations. These tools alone are worth more than the subscription!
One stop platform to get a successful online business up and running – You can find all the information in one location to get your online business started, tweaked, growing and thriving! You do not have to scour the internet and a myriad of sites to get valuable insight, tools and mentorship. You have access to it all at Wealthy Affiliate!
Another aspect that I must mention is that you get help you can trust! You can't believe everything you read on the internet! The track record of this platform, however, will give you confidence that the information provided and the guidance given is proven and will bring benefit and value to your online business!
I also like the way the education material is structured as walk throughs. This gives step by step instruction on each aspect of building an online business, so you don't miss anything out on your road to success!
Who Should Sign Up For the Wealthy Affiliate Program?
This question was a bit of a challenge to answer when writing this Wealthy Affiliate review! Maybe it would be easier to start with who shouldn't sign up for Wealthy Affiliate program!
Wealthy Affiliate is not a get rich quick scheme. There is no magic wand to be waved to turn you into an internet success overnight. So if you are looking for a quick fix for your financial situation or just want to make money online by earning a few extra dollars on the side, then this is probably not the program for you.
If, on the other hand, you are serious about building an online business, and want to do it right the first time, then this is the program for you. If you realise that educating yourself about affiliate marketing is a process and you are willing to learn from and contribute to a community, then you are in the right place!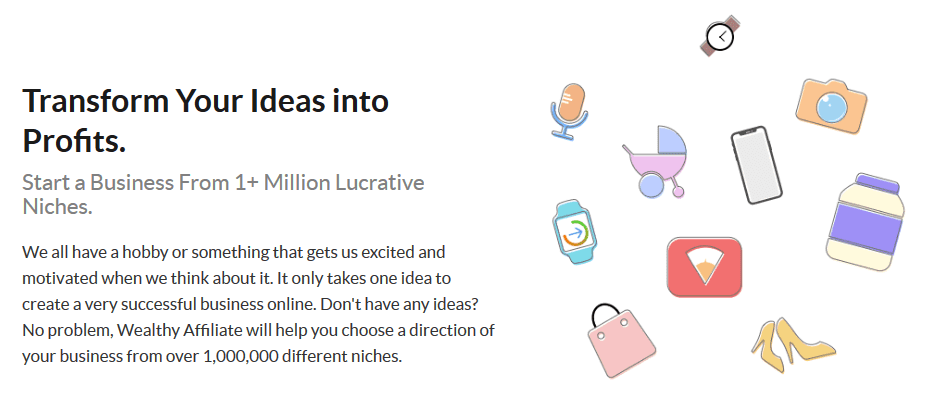 Click here to try Wealthy Affiliate for free!
Free Plan Versus Premium Plan
When you sign up for the free membership, you get a limited account to access the Wealthy Affiliate program dashboard. Some features in the free membership are for a limited time, but others are free forever. The access to some of the training videos and community features do not expire, but the live support feature is limited to 7 days.
What you get as part of the free membership
Live Help – First 7 days only
Beginner Training Course
Affiliate Bootcamp Training – Phase 1 Only
2 Websites
Website Backup
Personal Affiliate Blog
Video Walk-Throughs
Keyword Research Tool – limited to 30 Searches
Training Classrooms – 2
Affiliate Program
One on One Coaching – First 7 days only
The free membership is designed to give you a taste of what the program is all about and to get an idea of the value that the platform can offer you. Of course it is geared to give you just enough, and leave you wanting more so that you will sign up for a premium account, but that's business after all.
Ultimately, the free membership gives you enough information to decide on the value that Wealthy Affiliate offers and whether it is for you or not.
The premium Wealthy Affiliate membership is the key to getting access to all the bells and whistles and the meat of the program! As mentioned before, if you are serious about building a stable, sustainable online business, this is where you want to be!
This is where Wealthy Affiliate program outshines the competition, an amazing community, bucket loads of tools, and resources all in one place.
Main features included with the premium membership
Live Help – Unlimited
Private Messaging – Unlimited
50 Websites
Website Security Package
Website Backup
Beginner Training Course – Full Access
Personal Affiliate Blog
Affiliate Bootcamp Training – All Phases
Live Video Classes
Video Walk-Throughs
SEO Keyword Research Tool – Unlimited Searches
Training Classrooms – 2
Affiliate Program – 2x Higher Payout
Earn While You Learn
One on One Coaching – Unlimited
Private Access to Webinars
24/7/365 Website Support
Website Feedback Platform
Website Comment Platform
Website Analysis
The biggest issue I've had with previous training programs and marketing communities is how outdated they get. With a Wealthy Affiliate Premium membership, you don't need to worry about that. New training's are added daily including live weekly video training sessions.
You can also search and browse past training's they've created over the years. With a premium membership, you also get unlimited access to community features which is one of my favorite aspects of Wealthy Affiliate program.
Final Thoughts on the Wealthy Affiliate Program
The online business world is an ever changing environment. Search engines change their rules and algorithms, techniques and strategies for building a business change, technology progresses.
The training at Wealthy Affiliates is constantly updated to make sure the education material is fresh and relevant. This keeps you ahead of the game, giving you a competitive advantage over other online business entrepreneurs competing in the same niche.