5 Best Membership Plugins For WordPress
This post may contain affiliate links, meaning I get a commission if you decide to make a purchase through my links, at no cost to you. Please read my disclosure for more info.
Do you need to build a membership website and would like to know the best membership plugins for WordPress and compare a few of these WordPress plugins?
It's important that you choose the best membership plugin for your business because the better the platform, the more growth you can expect and acquisition of customers. Here's a look at the 5 best membership plugins for WordPress.
MemberPress – Membership Plugin for WordPress
MemberPress is one of the best-known membership plugins for WordPress. It has all the features you could possibly need to put together a membership site. After the plugin is installed it lets you restrict content on your site such as posts, pages, categories, tags, and files.
The service also offers the ability to create unlimited access and pricing rules, manage an unlimited amount of users, accept payments through PayPal Express Checkout and Stripe, content dripping through timed release of access, and much more. This is easily one of the best membership plugins for WordPress around.
Click here to find out more about MemberPress
Ultimate Membership Pro – WordPress Membership Plugin
This is the most complete membership plugin on the market, packed full of dozens of features. Ultimate Membership Pro is known for being the ultimate – pardon the pun – in WordPress membership plugins.
You'll be able to work with multi-level exclusive access for members built around free and paid packages and convert your website into an income source by protecting the most valuable content. The key features of this plugin are being able to restrict content, manage members, host private content, restrict access, and more.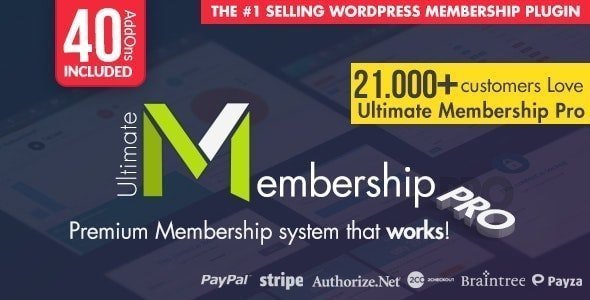 Click here to find out more about Ultimate Membership Pro
ARMember – Membership Plugin for WordPress
ARMember is unique when it comes to membership plugins for WordPress in that it provides every kind of membership related function under one roof. It offers a complete package to create a membership system without any technological knowledge or programming skills.
ARMember allows for unlimited membership and the ability to let users be subscribed to several levels at once. Another great feature is being able to create multiple payment cycles for an individual membership plan, allowing you to give users the chance to subscribe on a weekly, monthly, quarterly, or annual basis.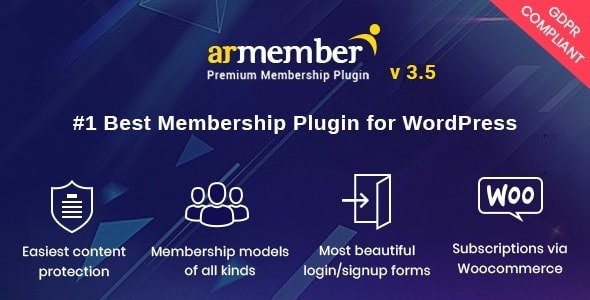 Click here to find out more about ARMember
WP eMember – Membership Plugin for WordPress
WP eMember premium membership plugin is compatible with a number of different platforms, including WordPress. This isn't an online service, but is rather a PHP script that you access through a subscription service. You then install the script on to your own web hosting server and then the script pretty much takes care of itself.
Don't worry if you don't have much technical knowledge though, as the subscription fee comes with a free installation kit and the script is offered as a simple plugin for WordPress users. It has all the features you could need to manage a membership site, but the user interface can feel a little dated.
Click here to find out more about WP eMember
Restrict Content Pro – WordPress Membership Plugin
Restrict Content Pro is a great tool that was built by the experts behind AffilateWP and Easy Digital Downloads for WordPress. This plugin is designed to integrate smoothly with the WordPress native interface, meaning that it's super simple to use.
Unlike some other membership plugs, Restrict Content Pro has built-in integrations rather than trying to sell them separately. You'll get PayPal, Stripe, CSV export, email manager functionality, and much more for the price of admission.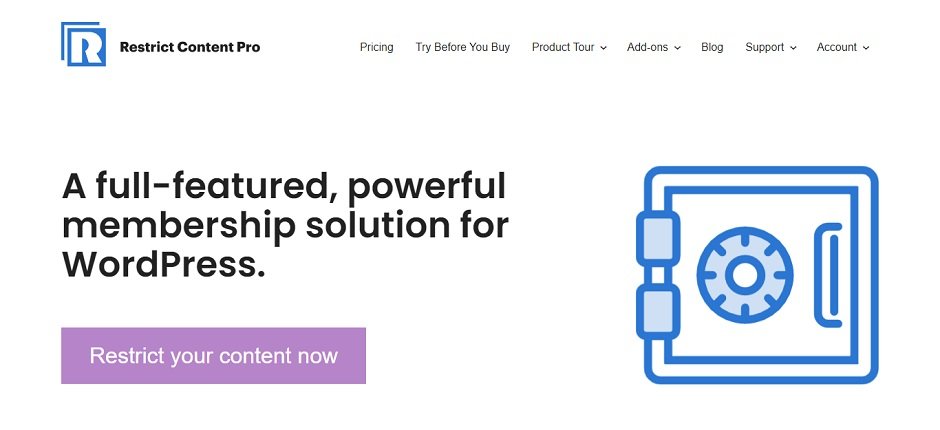 Conclusion About the Best Membership Plugins For WordPress
Which of these membership plugins for WordPress is right for your website, it depends on both your needs and budget. Keep in mind these are premium plugins so you can expect some price tag to be attached to them.
Avoid paying for more than you need and choose the one that has the right features at the right price for you.