Growth Suite Review: For Agencies That Resell WordPress Hosting
This post may contain affiliate links, meaning I get a commission if you decide to make a purchase through my links, at no cost to you. Please read my disclosure for more info.
For agencies that resell WordPress hosting, one of the main time-consuming and tedious tasks is to stay on top of the billing and client administration. This is where Growth Suite fills a gap in the market and offers an easy way to manage your client billing for your WordPress hosting agency. But this is not the only aspect of the system.
Growth Suite is a management platform for WordPress hosting agencies that offers client management, site management, and managed WordPress hosting, all from a branded system according to your agency. The informative reports and management provide predictable, fast agency growth.
When you find a platform that offers a wide variety of services in one location, the price is normally out of reach of smaller agencies that are just starting out but are looking to scale their business. Agencies in this situation often have to look for a starter platform that is more affordable and then migrate to a more feature-rich product once they have grown to the point that they can afford the additional services. This is one area of the Growth Suite offering that sets it apart from many other management systems.
What Is Growth Suite?
Growth Suite is a product that is offered by Flywheel, which is a managed WordPress hosting environment specifically designed for creatives. The Growth Suite product offers a central point for creative agencies to manage their clients, their billing, their reporting, and their sites, all in one location.
The main reason that we recommend this product is for its scalability and how easy the user interface is to navigate and manage.
As a growing agency, you don't have the time to struggle with cumbersome spreadsheets, billing, and management software that do not integrate or give you a complete picture of your business.
This problem is only exacerbated as your team grows, and you need to share the information relevant to each member of your agency.
You need to be focused on servicing the needs of your client rather than trying to combine and collate data to manage your own business.
How Growth Suite Solves Your Problems
Growth Suite comes to the rescue by streamlining the following tasks and providing centralized management in a single system.
Revenue tracking. Keeping tabs on which client has paid and who hasn't can be a full-time job without Growth Suite.
Management of clients in a centralized location. Having your client data in a centralized location means that members of your team can access the data when they need it, and it is always up to date!
Billing and invoice management. Coordinating the billing of clients, the sending out of invoices, and the collection of the due amounts can be a lot to manage, but Growth Suite simplifies this process.
Data-informed business growth management. The informative, easy-to-read agency reports allow you to easily monitor the growth of your agency without spending hours collating data from different systems.
Bulk site management. You can manage all your WordPress hosting sites and those that you host for your clients from the same centralized interface.
What We Like About Growth Suite
There are many things that we like about Growth Suite, but one of our favorite aspects is how simple, straightforward and easy it is to get going with the product.
After signing up, you go through a basic setup of your account, which can have your agency profile ready to run in under 5-minutes!
Settings Setup
The first thing you need to do after signing up for an account is to set up the parameters for your agency. A large orange block in your dashboard will alert you to the fact that your setup has not been completed.
Go to the settings page and set up the basic information of your agency. This will involve adding the following information, which is crucial for setting up your invoicing.
Your company or agency name.
Contact email.
Contact number.
Mailing address.
The default billing currency, which will be the currency displayed on your dashboard. You can still bill your customers in multiple currencies.
Brand logo.
Your client portal domain, which is your agency name.
After this setup, you are redirected to a Stripe setup page which is important to complete since it is the way that you get paid. This part of the setup takes no more than 2-munites, after which your account setup is almost complete.
Growth Suite is fully integrated with Stripe, which allows you to bill your clients with ease and confidence and receive payment on time and with an easy, streamlined process.
The next step is to set up your services and offerings. You access your services from the menu Manage, Services, where you will load the services you are offering to your clients and their associated pricing.
When setting up your services, you can select multiple currencies that your will be billing these services in. For example, if you have clients in the US and Canada, you can select both USD and CAD as the currencies for this service. Each service can have multiple tiers that are subcategories of the service.
The Growth Suite Dashboard
The Growth Suite agency dashboard gives you cashflow insights at a glance. This will help you or your accountant to easily monitor the financial performance of your agency. The interface is clean and informative, with all the critical financial information at your fingertips.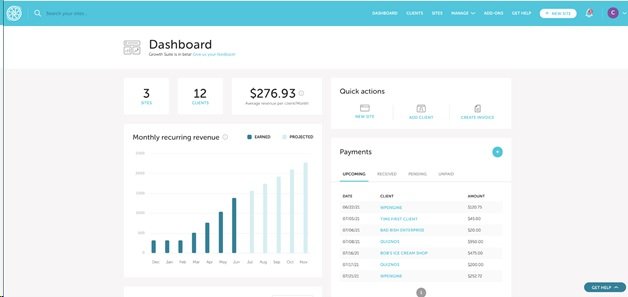 Recurring Invoicing
Recurring invoicing is probably the feature that we love the most on this platform. It takes the headache out of billing your clients every month and making sure the invoices go out every month on time.
This process is completely taken care of for you by simply flagging an invoice to your client as recurring and setting a date for the invoice to recur every month. The system will then send out those invoices on the designated date.
Client Management
Having a single location to enter and install all your client information as well as keep notes on each client regarding their specific needs and billing requirements is a great time-saver for any business.
Having this data accessible to everyone in your team will save time and frustration for people in your team needing to request client information via email, or worse, trying to keep a spreadsheet up to date with all your client info.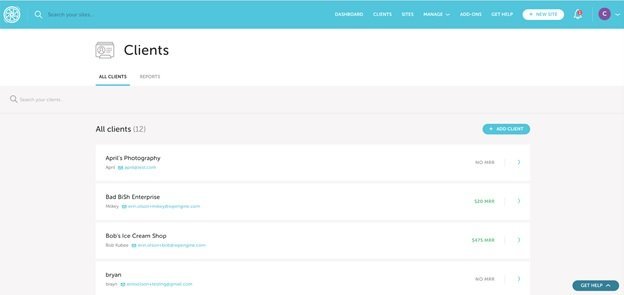 Branded Client Reports
Communicating with clients is important to maintain your connection with them. A great way to do this is to send them professional-looking reports that are all branded with your agency logo and information.
You can build a number of client reports that will offer your clientele relevant information regarding your services that they use or client financial information such as billing statements.
Growth Suite Client Portal Feature
Another way to keep the relationship with your clients personal and interactive is via the client portal feature in Growth Suite.
This easy-to-use client interface will allow you, clients, to securely submit payments for your services, edit their own contact information and contact you directly.
This can be an invaluable tool to keep your clients engaged and able to contact you if they have a problem, have a query, or need more information about some of your services.
Bulk Site Management
The bulk site management feature allows you to keep tabs on all the sites you manage on the hosting environment, both your sites and the sites of your clients that you are responsible for managing.
A single location to view the status of each site is a mammoth time-saving feature that saves you from logging into each site manually to check the status and manage updates and similar tasks.
You can see at a glance down to plugins that are in need of an update of sites that need a WordPress update and take the necessary action!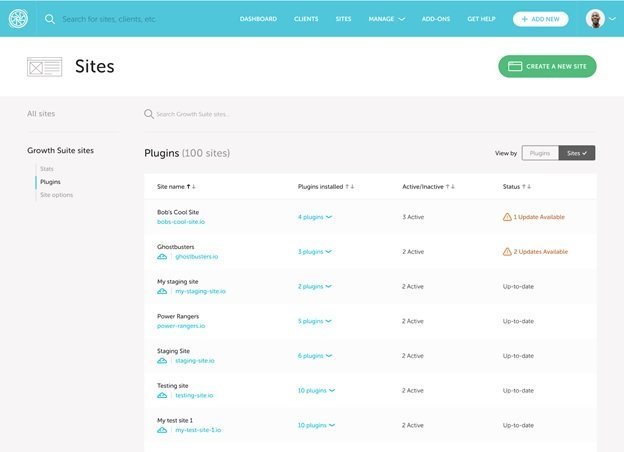 Conclusion
If you run a WordPress hosting agency, Growth Suite is the ideal management tool that takes the difficulty out of your client management, billing and invoicing, client reporting, and site management.
This leaves you to focus on the needs of your clients and market your services rather than the nitty-gritty of time-consuming administration.
We highly recommend that you check out Growth Suite if you are in the business of WordPress hosting and website development